Location: UZES, Gard, Languedoc Roussillon, South of France, 40km west of Avignon and the Rhone.
Comfortable villa in Uzes with garden, garage and gated security just a 5-minute stroll from medieval historic centre
Overview
This light and airy 3-bedroom, 2-bathroom, fully equipped, provençal villa, just 5 minutes on foot from the centre of medieval Uzes, offers you all the convenience of a town apartment PLUS -- a 120 sq.m. Mediterranean garden with 2 terraces and BBQ, an enclosed 'terrace Tropèzienne' (solarium, or sun-terrace) on the first floor, and an attached, lockable, garage with an additional parking space -- all within a quiet and secure, gated, residential environment.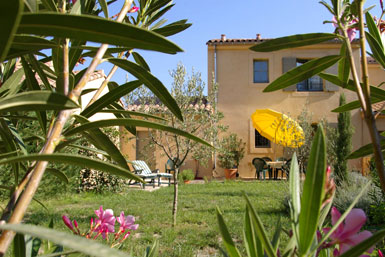 The garden and rear of the house with its 2 terraces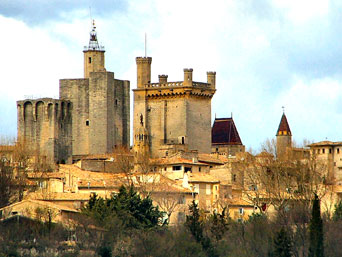 Four of the 5 towers of Uzes
Sunbathe orchill out with a glass of wine in the intimacy of the upstairs sun-terrace, outdo Rick Stein or Jamie Oliver in the well equipped kitchen, dine outside on the sheltered garden terraces or inside, relax with a good book or a DVD (or Freeview satellite TV) in the comfortably furnished living area, or simply visit the many and varied restaurants and cafes of Uzès -- and safely stroll back home for a quiet night's sleep in large comfortable beds: no need to worry if sharing that bottle of wine has put you over the legal limit!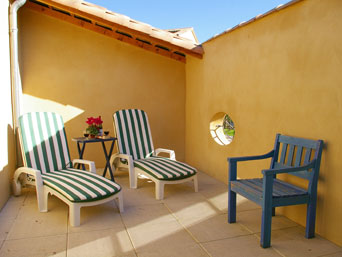 The solarium terrace on the first floor
The comfortable living room with kitchen on the right
In just a minute after walking out of the villa up the chemin duParadis, you will find yourselves in the narrow, twisting streets ofUzes, an extraordinarily beautiful medieval town in Provence, Gard, setin a region of verdant valleys rimmed by ribs of arid, rocky garrigue,between the sea and the Cévennes mountains. The villa is no more thanfive minutes' walk from restaurants, patisseries, boulangeries, cafes,small supermarkets, and the town's famous arcaded square, La Place auxHerbes, scene of the renowned Saturday provencal market. In spite ofits central location, you can also walk out and into vineyards andfields where you can wander along the paths, or you can descend intothe craggy gorge of the Eure and walk along its refreshing rushingriver. There you will find the spring which was the source of water forthirsty Roman Nimes, via the famous aqueduct that crosses thespectacular Pont du Gard.
For more information about the villa and its facilities please click on the tabs above.
For up-to-date rates and availability please see our advertisement on the Holiday Rentals website.
See my self-catering holiday home No. 55195 on Holiday-Rentals.co.uk